Great Oregon Oak Collection by Republic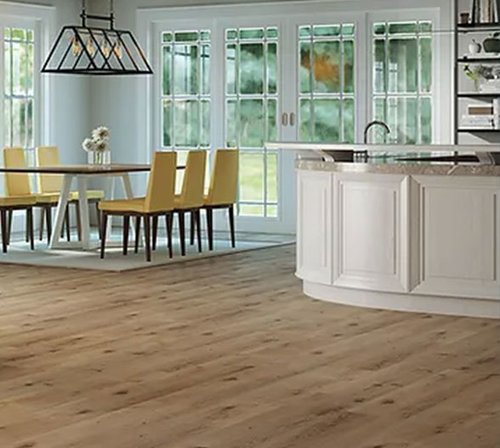 Have you been searching for flooring that is not only beautiful but also strong enough to withstand the wear and tear of everyday life? Look no further because Central Flooring Supply has got you covered with our Great Oregon Oak Extra-Wide Pure SPC Flooring by Republic!


The Great Oregon Oak Collection by Republic is an excellent choice for those who want to bring the natural beauty of the Pacific Northwest into their homes. With wider and longer planks, this flooring creates an authentic old-floor look that will make you feel like you're living in a cozy cabin in the woods.


But it's not just about looks! Republic's Pure SPC technology makes these floors inert and waterproof, meaning you won't have to worry about spills or accidents ruining your beautiful new floors. Plus, with Republic's limited 25-year residential warranty and a limited 10-year commercial warranty, you can rest assured that you're investing in a quality product that will last for years.


And that's not all! Republic's new anti-bacterial EVA underlayment padding comes attached to the floor planks, making installation a breeze and offering excellent noise insulation that you've never experienced before. Plus, Republic's Pure SPC floors are more robust and snap into place much easier than other floors, meaning less stress for you during installation.


So why wait? Come on down to Central Flooring Supply and see the beauty and durability of the Great Oregon Oak Collection for yourself. With this utterly green product, you can feel good about making an environmentally friendly choice for your home.


About Central Floor Supply
Central Floor Supply is the leading supplier of high-quality laminate, SPC, and WPC flooring in Fresno, California. We offer a wide range of options and always provide professional service.


Our facilities are located in Fresno, CA, and our team of flooring experts is ready to help you locate the ideal flooring for your project. We specialize in engineered multilayer flooring and use only the finest materials and state-of-the-art equipment to ensure our customers get the highest quality products.


We're proud to be leading the waterproof flooring revolution with Republic's groundbreaking waterproof engineered flooring products. Republic's Pure SPC™ flooring is made using the most advanced manufacturing techniques and is the most resilient vinyl flooring on the market. They even made their products greener by removing the wood content from their WPC flooring.


At Central Floor Supply, we're committed to providing the best quality products and services possible. In addition, we want you to be 100% satisfied with your total purchasing experience, which is why we offer Republic's limited 25-year warranty for residential environments and a 10-year warranty for commercial environments.


Republic's Pure SPC flooring is the strongest and most durable flooring material available. It combines a robust plastic composite with natural stone additives to create the strongest possible core. We then add a high-quality vinyl top layer of stunning high-definition designs and realistic textured finishing effects.

Republic's revolutionary Pure SPC Max waterproof flooring covering collection is the toughest and most rigid vinyl flooring currently available. It's 40% stronger than other vinyl floors on the market, without compromising appearance and style.

Republic is dedicated to pushing the boundaries of manufacturing to create the most advanced and attractive waterproof flooring materials for your home. So, if you're looking for the best quality flooring products at the most competitive prices, visit us at Central Floor Supply in Fresno today!